Why You Should Consider Learning To Speak English Online
Nearly anywhere you travel in the world, one of the most common languages you will hear is English. As a result, there is a big push internationally to hire employees who are proficient in English. Whether for the travel industry or global businesses, English can be seen as an asset in just about any industry. With that being said, one of the best ways to pick up those valuable language skills is through new online courses!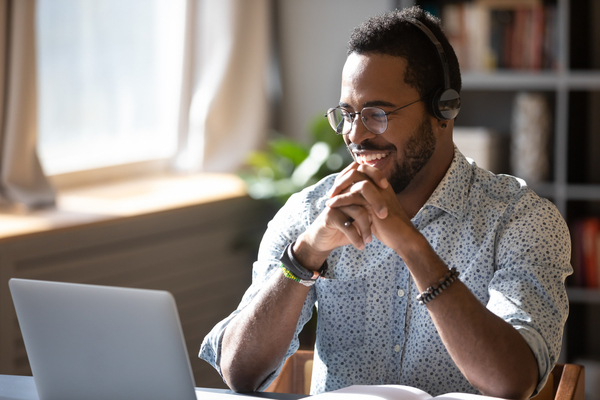 Why You Should Learn English Online
English is among the most used languages in the USA and internationally. Globally, an estimated 1 billion people speak English, including those who speak it as their second language. Besides that, 67 countries use it as their official language and 27 others as a secondary official language[i]. 
Learning English online is not too much of a hassle. Compared to the challenges of learning in a traditional classroom, such as cost and time, learning online can be a lot more efficient. . In this case, potential students use materials in written form, videos, and audio to learn English online. Learning English online has several advantages over traditional classroom learning. Among them include;
Benefits of Learning English Online
1) Learn from the comfort of your own sofa
Going to a physical school in your pajamas isn't ideal. However, this is an option if you are taking an online class. One of the many benefits of learning English online is that you can learn from the comfort of your home. For this, consider creating a study space in your room that inspires studying.
2) Learn from multiple resources simultaneously
As expected, you will be spending time in front of a tablet, smartphone, or computer during classes. However, you can take advantage of this in many ways. For instance, when your tutor mentions a phrase or word that you haven't heard, you can simply Google it. You can take advantage of several online tools to expand your studies, such as Wikipedia, Oxford Dictionary, Linguee.com, and more.
3) Easy to improve all four essential skills
Mastering English requires that you ace four essential skills, including speaking, listening, reading, and writing. Fortunately, there are several ways to improve all these skills online. For instance, video calls and live conversations can help you build your speaking skills. Several articles and e-books that are available online can boost your reading skills, while mini-essays and typed assignments can help boost your writing skills.
4) Meet and connect with the online community
While online learning conversations cannot replace face-to-face interactions, online learning can help meet and develop virtual friends. Learning English through various online platforms is a great way to meet people in the same fold who are interested in improving their English skills.
Best Places to Learn English
USA Learns
With several video classes and tutors possessing the best English skills, USA Learns offers many English courses for both short course and long courses. Apart from specific classes, USA Learns also teaches English pronunciation and grammar[ii].
The University of Illinois.
This has been the leading University in Chicago for English classes. They offer special online courses in which one can take more than a one-course session. The University of Illinois has been known for years for its English tutors[iii].
International TEFL Academy
International TEFL Academy offers English classes through small online class groups, One-On-One, and In-Person Class at the academy located in the Chicago United States. The academy offers the learner to choose the platform on which to learn from. These can be Skype, Google, WhatsApp for those having private tutors[iv].
Udemy
Udemy also has the best online English classes. They offer both free and charged online classes. These online classes involve the use of videos and in which they are learned independently. Short courses take about 5 hours, and long courses can go up to 100 hours. Long courses include grammar classes, pronunciation, and full English skills[v].
Preply
Preply helps you learn English classes by taking live video classes. They have the best English adepts who will help you access English exercises. Preply brings learning schemes that fit students' needs and skill levels[vi].
Conclusion
Currently, online classes are the worlds' most relevant in current English learning programs. However, even as online learning is slowly becoming mainstream, you should watch out to avoid various challenges associated with e-learning systems. This is why it is prudent to undertake self-research before enrolling in online educational programs.
That said, if you are interested in learning English online, check out various English learning programs available before enrolling in one. You should select a suitable program to match your needs. Good luck! 
Sources
[i] "Learntalk | How Many People In The World Speak English? | Learntalk". 2020. Learntalk. https://learntalk.org/en/blog/how-many-people-in-the-world-speak-english.
[ii] "USA Learns Homepage". 2020. Usalearns.Org. https://www.usalearns.org/.
[iii] "Home | University Of Illinois Urbana-Champaign". 2020. Illinois.Edu. https://illinois.edu/.
[iv] "TEFL Certification | Teach English Abroad | TEFL Classes | TEFL Jobs". 2020. International TEFL Academy. https://www.internationalteflacademy.com/.
[v] "Online Courses – Learn Anything, On Your Schedule | Udemy". 2020. Udemy. https://www.udemy.com/.
[vi] "Learn Languages With Expert Online Tutors. Book Your Lesson Today!". 2020. Preply. https://preply.com/.