Why You Should Consider A Graphic Design Degree In 2021!
Are you thinking about switching your career to graphic designing? Well you're in luck – there has never been a better time than now! This article has everything you need to know about becoming a professional graphic designer.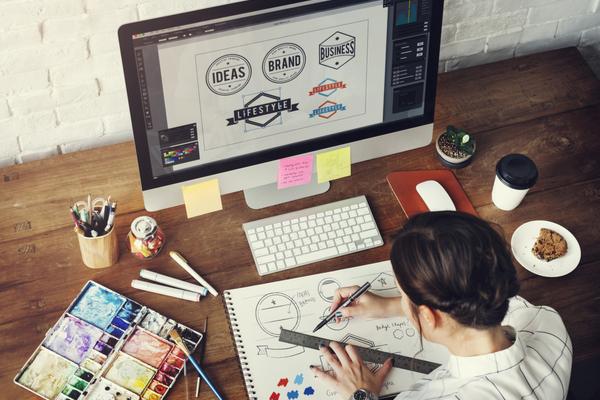 What is a Graphic Designer? 
A graphic designer creates visual concepts by hand or using software and communicates ideas that inspire their consumer. As a graphic designer, you may be able to perform multiple creative functions such as a problem solver, a creative thinker and a communicator. Getting a certificate in graphic designing can open endless career doors for you.
Recently, the demand for graphic designers has been increasing exponentially. If you are good in creative thinking and communication that captivates people, graphic designing is for you. You might have some questions and we're here to help you answer those questions so you can determine if graphic design is a good career for you.
What do Graphic Designers do?
A graphic designer uses his artistic skills to develop captivating ideas and present it to consumers in an inspiring way. [1] They also develop the layout for advertisements, brochures, and magazines. Here are a few examples of graphic designer jobs:
Visual designer

Craft and fine artists

Animator

UX designer

Industrial designer 

Digital designer

Motion graphic designer

Art director

Web developers

Video editor  
Why Should You Get a Degree in Graphic Design?
There are many reasons why you should study graphic designing, but the most influential reason is finding a well-paid job. Here are some good reasons to choose graphic designing:
1) Get paid for being creative:
If you are an art-loving person you can make money while still enjoying what you do. You can express your creativity every day. It all depends on your thoughts and ideas. So, you have a chance to leave a mark in the world and bring your ideas to life.
2) Be your own boss: 
Being a graphic designer you can have diverse choices for your career. Choosing to be a freelancer or setting up your own agency is a good career choice for a graphic designer. [2]
3) Work across a range of industries:
Graphic designers can work with different types of clients from different industries. It's totally up to you if you want to work with multiple industries or specialize in a single field.
4) A graphic designer is a vital part of shaping a brand:
Choosing a brand identity is crucial and a graphic designer plays a vital role in creating it. This yields greater career pathways.
Salaries, growth and demand For Graphic Designers
So let's talk about how much a graphic designer makes. A person working as a Graphic Designer in Australia typically earns around 56,100 AUD per year. Salaries range from 25,800 AUD (lowest) to 89,200 AUD (highest) [3]
The employment of graphic designers in computer system design is growing. Moreover, the advertising and public relations services offer a higher salary than newspaper and print publishers.
Where to study Graphic design
1) JMC Academy
JMC Institute has been teaching students for more than 35 years. Supporting students to find compensating vocations and investigate their interests, JMC offers numerous city locations such as Brisbane, Sydney and Melbourne.
JMC also offers scholarship opportunities for students.
2) RMIT University (Royal Melbourne Institute of Technology University)
With more than 82,000 students, RMIT is the biggest higher education institution in Australia and provides study opportunities around the world.
The university is well known for both teaching and research.
Most of their courses include internships and work experience to offer students the opportunity to adapt themselves to employment after their studies.
3) Bond University
Located on the Gold Coast, Bond University is recognized for its quality of education, skills development, and student support.
The Faculty of Society & Design offers practical experience with partnerships and international internships.
4) Western Sydney University
Western Sydney Univerisity is an elite college, internationally recognized for its innovations in teaching and research strenghts. The college esteems academics excellence, integrity and the pursuit of knowledge.
Conclusion
Earning a degree in graphic designing not only requires a good education, but also requires you to be more open-minded towards ideas, hard work, creativivity, and discipline. At the end of the day, all of your efforts will be worth it. Before subscribing to a new degree, be sure to do as much research as possible to find yourself the right fit!
REFERENCES
"CollegeGrad." Jobs, Career, Salary and Education Information.
https://collegegrad.com/careers/graphic-designers

Mittal, Khushboo. "Why Should You Choose Graphic Design as a Career?" Medium. June 09, 2019. https://medium.com/@graphicdesigncourse.trulabz/why-should-you-choose-graphic-design-as-a-career-fb42ac4cda24.

"Graphic Designer Average Salary in Australia 2021." The Complete Guide. http://www.salaryexplorer.com/salary-survey.php?loc=13&loctype=1&job=54&jobtype=3.
"Graphic Design Degrees & Courses In Australia." Hotcourses International.  https://www.hotcoursesabroad.com/study/training-degrees/australia/graphic-design-courses/loc/9/cgory/f11-3/sin/ct/programs.html.