Top 5 Reasons to Study Aerospace Engineering
Is aerospace engineering worth the effort? Well, when it comes to choosing a career, there are a lot of factors that you should consider. Above all, you should choose a career that you're passionate about. If you dream of flying high in the sky with great job security and an amazing salary, this might be the best career for you!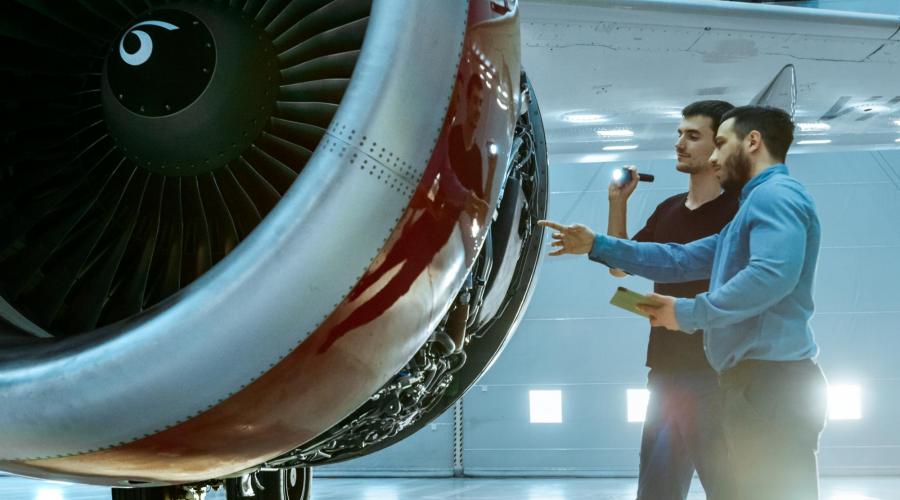 What is Aerospace Engineering?
The aerospace engineering industry focuses on the design, testing and manufacturing of aircraft, spacecraft, satellites and missiles. Aerospace engineers are responsible for developing these advanced technologies.
These engineers usually specialize in a particular product of the aerospace industry, such as missiles, rockets, military fighter jets, spacecraft, helicopters or commercial aircrafts. Aerospace engineers also can choose a specialty within the field, including instrumentation, communication, navigation and control, design, guidance or production methods. 
A career in aerospace engineering allows professional engineers to design, analyze, test and troubleshoot various technologies. Additionally, aerospace engineers create quality control standards, optimize design processes, identify problems with the manufacturing process or with the product itself and provide solutions to correct any problems.
Aerospace engineers tend to be extremely familiar with project engineering, systems engineering and even business roles, so they are comfortable working alongside other professionals in a range of fields. As the need for technology grows, the aerospace industry evolves and requires the creativity and innovation of a new generation of aerospace engineers.
What are the qualities or skills of an Aerospace engineer?
Aerospace engineers call on a different variety of hard and soft skills to excel in their roles. These are just some of the qualities that employers look for when hiring new aerospace engineers:
Technical skill –

Aerospace engineers need to know about aerospace systems, manufacturing procedures, federal government standards, and more.
Good Character –

This is necessary to receive the security clearance required to work on national defense projects.
Logical –

 Issues that arise in the aerospace field must be resolved using logic, rather than emotion.

Critical thinking –

These skills help aerospace engineers translate a brief or set of requirements into a tangible aerospace solution and determine why failed projects do not work.
The Best 5 Reasons To Pursue Aeronautical Engineering
Here are five reasons you should consider studying Aerospace Engineering to help you decide whether it's the right degree for you.
1) Salary Expectations – How much do aerospace engineers make? Well, according to PayScale, entry-level aerospace engineers make an average of $71,000 per year. In fact, aerospace product and parts manufacturing is one of the highest-paying industries with the greatest post-recession income growth. Salaries rise as aerospace engineers gain more experience. While the average national salary stands at around $78,500, the typical salary for aerospace engineers with 20 or more years of experience is $128,000. Some locations in the United States also offer aerospace engineers salaries well above the national average.
2) Experience – Education is important as an aerospace engineer, most of these professionals learn more through the experience they have on the job. Internship programs are a component of many aerospace engineering degrees. These programs can help aspiring aerospace engineers gain experience before entering the workforce. Students who do not have access to these programs are advised to contact aerospace companies to gain valuable experience  before graduating.
 PayScale also shows just 13 percent of aerospace engineers have less than a year's experience in this profession. Thirty-six percent have between one and four years of experience, and a quarter have between five and nine years of experience. Twenty-six percent of aerospace engineers have 10 or more years of experience working in this field.
3) Innovation – Innovation is the keyword engineering has no monotony because the essential requirement is to innovate and improve advanced technology for higher efficiency and lower carbon footprints
4) Infinite Scope – It has a limitless scope as all major countries around the world have extensive space exploration programs. This means new rocket technologies, new space stations, new propulsion systems, and new hardware would be required in the decades to come.
5) Practicality – It will give you practical skills directly relevant to this specific field of industry and employment. A degree like this will also get you the contacts and connections you need to launch your career.
Conclusion
Now that you have an idea what aerospace engineering is, this might be a great opportunity for you. Being an aeronautical engineer involves a lot of challenges and rewards. In this profession, working will always be a new learning experience. Prepare yourself with proper training and education. 
References: