6 Video Conferencing Solutions You Need To Know About!
Being stuck at home for a whole year has really made people rethink how they communicate with their colleagues or even their loved ones. One solution that's really changed the game and made communication easier is video conferencing. But how do you know you're using the best technology? Here we've listed 6 solutions you should definitely consider!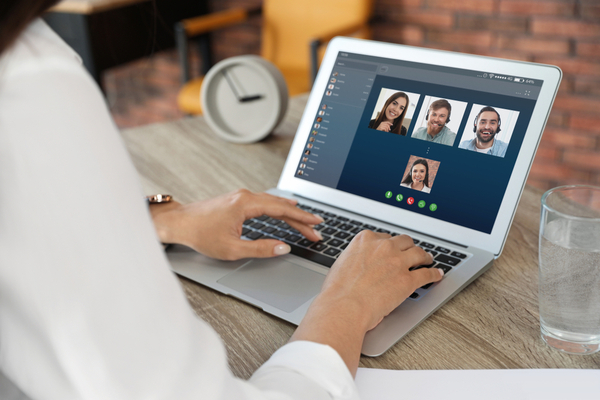 What Are Video Conference Solutions? 
These are programs or apps specifically designed to allow you to host conferences online. Usually, they offer the ability to stream live or prerecorded video content to a select audience, the ability to access several different video streams through a single registration point, and allow that access through a single page that also acts as a schedule. In this way, they're as convenient as a sheet with a map and timetable would be in a real-world conference. 
They're vitally important because online conference hosting platforms let anyone in the world tune in. No matter where your audience is and no matter what's going on, these virtual conference solutions will let them come to your event. Let's take a look at some of the best. 
1) Accelevents
This is one of those virtual conference solutions that just can't be missed. Founded in 2014 in the US, Accelevents have had plenty of time to get your conference just right. Along with all the usual tools to run a conference, it also provides some opportunities for your attendees to network with each other, giving them feeds similar to social networking sites that they can interact with and post on as well as chat windows. 
However, there is no system included that allows for two-way video events, so if collaboration and back-and-forth discussion is a big part of your conference, this might be one to skip. If you just want to broadcast events and talks, though, Accelevents could be for you. 
2) SpotMe
Now this is one of those virtual platforms for conferences that goes back a long way. Created in 2001 by its Swiss owners, it has tons of experience built up in how to make online events great. With webcasting, two-way breakout rooms and personalised agendas for all attendees, this is ideal for events that want the joy of back-and-forth discussion combined with an organised, smoothly run conference. It even allows clients to launch their own conference app in the App Store and Google Play. 
3) vFairs
For vFairs, creating great virtual conference platforms is everything. They're known for their ability to create memorable, helpful virtual career fairs. Features include a beautiful 3-D model of a lobby welcoming all attendees in, models of exhibition booths and a two-way video system. While attendees can't search for each other, this is a great solution if you're creating an event where people at the booths are marketing something to the attendees. 
4) INXPO/Intrado
As far as virtual platforms for conferences go, INXPO is an easy-to-use, shiny solution to your needs. It provides a virtual three dimensional environment and event management features. They also offer engagement and marketing strategies to target your ideal audience, ensure your network is optimally set up to broadcast everything you want it to and offer advice for creating tailor-made, interactive content. It's clear that their virtual conference solutions are ones you don't want to miss. 
However, it is important to note that they don't provide many networking features. If back-and-forth conversation is a big part of the conference you're planning, it may be best to give this one a miss. 
5) Microsoft Streams, Teams and Yammer
As part of the Microsoft Office 365 suite of programs, this set of programs is easily accessible to most conference organizers. Especially useful for conferences created for the internal needs of an organization, you'll see it at its best results when all attendees are part of the same Microsoft Teams group. While you will need email and a separate application to perform event management, this is still a great solution for all your basic virtual conference platform needs. 
6) Swapcard
If you're looking for simple, easy-to-use virtual platforms for conferences, you can't do much better than Swapcard. Its clean layout makes it easy to navigate for anyone. It allows for some networking features and drag-and-drop app creation. However, it's important to note that there's no two-way video or streaming features included in this package. This is definitely best for the more stripped-down conferences.
Conclusion
Of course, when choosing the right product for you and your conference, it's always best to do your own research. Shop around and figure out which product is right for you. But these virtual platforms for conferences are a great place to start. Try some of them out, and find out how you can transform your online event into something great. 
References
"The 6 Best Virtual Conference Platforms", Tom Ouderkerk, accessed 30th March 2021,

https://medium.com/@tom.ouderkerk/the-6-best-virtual-conference-platforms-f0a0be40424

.

"Top 7 Virtual Conference Platforms to Host Events in 2020", GetVoip, accessed 30th March 2021,

https://getvoip.com/blog/2020/06/24/virtual-conference-platforms/

.

"The Essential Guide to Virtual Conference Platforms", Leading Learning, accessed 30th March 2021,

https://www.leadinglearning.com/guide-to-virtual-conference-platforms/#:~:text=Virtual%20conferences%20feature%20multiple%20sessions,vendors%2C%20and%20various%20other%20features

.

"The top 5 virtual event software platforms of 2021", Nutshell, accessed 30th March 2021, https://www.nutshell.com/blog/best-virtual-event-software-platforms/.