5 Steps To Design The Perfect Logo
We all want our businesses to stand out. We want our products to get the reach they deserve and audiences that span the globe. To do that, we need to know how to capture people's attention. Logos are one of the most important ways to do that, but they can be tough to get right. If you want to know how to get a logo made online and how to make sure it's great, this is the perfect place to do that.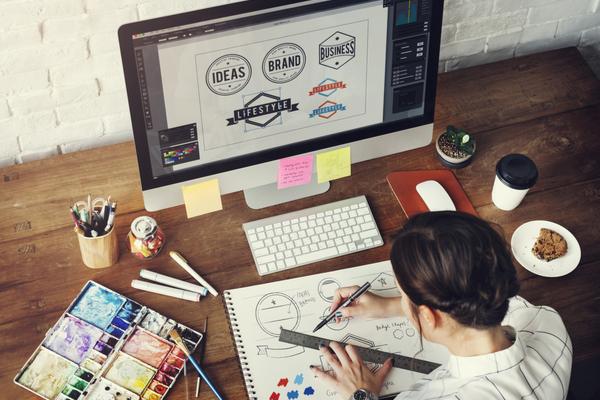 So why are logos so important, anyway? And what goes into designing one? Essentially, logo design is all about creating the perfect symbol for your company. It uses a simple, recognizable visual representation to make your business stand out. Antoine de Saint-Exupery says that, 'A designer knows he has achieved perfection not when there is nothing left to add, but when there is nothing left to take away', and this is especially true for logo design. Simplicity, the right kind of simplicity, is all-important for great logo design.
 With graphic design and careful typographical choices, it can make your business identifiable anywhere. It's vitally important to have good logo design because of this. With the right logo, your customers will see you and remember you before they buy a single thing from you. 
1) Start With Your Story
When you think of your brand, you might think about your product, your service or the profit goals you're aiming for. But if you do that, you'll be leaving out one of the most important parts of your brand: story. Customers respond to a brand's story more than they respond to anything else. To figure out your brand's story, step out of the what and figure out the why of what you provide. If you can build a story out of that, you'll have the roots of your logo. Just as the typeface and poster of a movie show what its story is about, your logo will need to have your brand's story at the heart of it all. 
2) Brainstorm Words That Describe Your Brand
So you've got your story. Where do you go next? To create a great logo, you need to build on the scaffolding that your brand story gives you. You need to brainstorm associated words and build a bigger, clearer picture of your brand. Thesaurus tools like Thesaurus.com are great for this. You'll be able to search the words most important to your brand and widen your net of inspiration. Best of all, you'll be able to follow the words that you find even further. These can help you create your logo design and refine your concept. 
3) Sketch Ideas Based on These Words
So now you've got plenty of triggers from which ideas can flow. The next step is to see where these take you. Grab a pencil and paper, take a look at those lists of words, and draw whatever comes to mind. Let each concept evolve organically, and don't censor yourself too much. As long as you follow a few basic guidelines, every idea at this stage of the process could come in handy. Firstly, keep your designs simple. Try to keep symbols so simple that you could draw them in seven seconds or less. Second, avoid popular clip art or generic symbols that are easily forgotten. Thirdly, be selective about use of colour. Use some to make your design pop, but in general, more than three colours is a bad idea. 
4) Test Your Top Sketches With Your Buyer Persona
Your next step is to step back. Leave your concepts aside for a while, and then come back to them. Once you're back, pick your top three favourites out of the sketches. These three sketches are the ones you're going to show to other people. Show them to people you trust. Ideally, these should be people who fit your buyer persona, your ideal customer profile. That way, you'll get accurate feedback that matches your business goals. Absorb the critiques you get, and use it to make your designs better as well as to choose a final design to focus on. 
5) Refine Your Chosen Sketch
The final step to create your logo design is to make your chosen sketch as great as it can be. Look back at the list of words you developed when you were brainstorming ideas. What terms does your sketch capture? What terms has it left out? Develop your sketch further and see if you can make it incorporate all the ideas you had while brainstorming. Look at the discarded designs again, and see if any of their best aspects can be brought back into the final design. 
Of course, when it comes to big business and financial decisions, it's always best to do your own research. Take your time, shop around and find the best online logo design service for you. But these five steps are great things to keep in mind when figuring out which logo design service to choose. If you want to get a professional logo made, you can use these steps and skyrocket your business' performance. 
References
"How to Design a Logo [Step-by-Step Guide]", HubSpot, accessed 9th July 2021,

https://blog.hubspot.com/marketing/how-to-design-logo?toc-variant-b=

.

"What is Logo Design?", Canny Creative, accessed 9th July 2021,

https://www.canny-creative.com/what-is-logo-design/

.

"How to design a logo: the ultimate guide", 99Designs, accessed 9th July 2021,

https://99designs.ie/blog/logo-branding/how-to-design-logo/

.

"Logo design: All you need to know", Creative Bloq, accessed 9th July 2021, https://www.creativebloq.com/graphic-design/pro-guide-logo-design-21221.