5 Popular Cryptocurrency Wallets Available Right Now
In the past few years, cryptocurrencies have been developing both as a concept and as an investment. Huge companies like AT&T, Microsoft, and Paypal have opened their door to accepting cryptocurrencies as a form of payment, resulting in a surge in cryptocurrency prices[1]. However, in order to join the cryptocurrency space, you will also need a 'wallet' to partake in these transactions. Let's take a look at some of the best options for cryptocurrency wallets.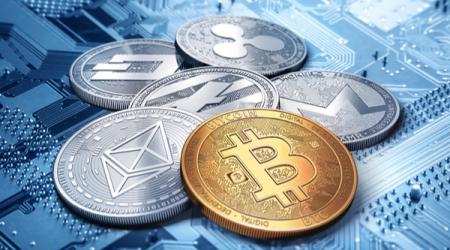 What is a Cryptocurrency Wallet?
Investing in cryptocurrencies means you'll need an app to buy crypto as well as a "wallet" to keep your private key code secured and stored for accessing your assets. Some examples of investment apps [2] are Coinbase, SoFi, Webull, Kraken, and Robinhood that will let you trade cryptocurrencies.
There are 2 kinds of crypto wallets:
1) Hot Wallets
Hot wallets are used for online storage. They may be accessed from your browser, meaning you can use them on a wide variety of devices, thus making it more convenient to use. 
2) Cold Wallets
Cold wallets provide offline storage through hardware and external devices. It usually comes in the form of a USB drive which lets you buy, sell, and trade crypto as long as it's connected to a computer. They are created as a hard to hack wallet.
How To Choose The Right Cryptocurrency Wallet 
In choosing the right 'crypto' wallet, there are several factors that you need to consider. This includes customer support access, wallet custody, educational resources, and wallet compatibility. It is also important to know which wallets are suitable for the devices that you'll be using.
Here are some of the best Bitcoin wallets to make sure that your private key code is securely stored:
1) Best Overall: Exodus
Type of Wallet: Hot Wallet

Fees: None (Exodus receives 2-5% spread on asset exchanges)

Features: 

Desktop and mobile wallet

Trezor hardware access

Exodus crypto apps

live charts

100+ crypto assets

24/7 support
Pros: Exodus is available for desktop, mobile, and hardware crypto wallets exchange services. Exodus can be partnered with Trenzor, another popular bitcoin wallet, which will allow you to manage your assets offline.
2) Best for Advanced Users: Electrum
Type of Wallet: Hot Wallet

Fees: None

Features:

Cold storage

add-ons supported

exportable private key

compatible with Ledger, Trezor, and Keepkey
Pros: Electrum has been launched just two years after Bitcoin was created, making it an OG in the crypto world. It provides online encryption for your crypto information allowing you to sign transactions from an offline computer.
3) Best for Android Users: Opolo
Type of Wallet: Hot Wallet

Fees: None

Features

Company-made hardware wallet

anti-theft protection

USB encryption

genuine device check

hundreds of cryptocurrencies
Pros: Opolo has its own free and encrypted hardware wallets that utilize EAL 6+ rated secure chips. Evaluation Assurance Level (EAL) is a category ranking assigned to an IT product or system after a Common Criteria security evaluation [3]. Simply put, you can store any crypto assets offline with Opolo.
4) Best for Mobile Users: Mycelium
Type of Wallet: Hot Wallet

Fees: None

Features

Bitcoin with advanced storage

spending and savings accounts

in-app exchange and trading

educational materials

inter-wallet operability
Pros: Mycelium was formed in 2008 and they offer a wide range of storage services like advanced cold storage, spending and savings accounts for Bitcoin investors, and inter-wallet operability. They say that their wallet is 100% secured and allows open-source, incognito use.
5) Best for Beginners: Shift Crypto
Type of Wallet: Cold wallet (hardware)

Fees: None

Features

Bitcoin-only hardware storage

1500+ cryptocurrencies

BitBoxApp
Pros: If you're only looking to store Bitcoin, Shift Crypto provides a Bitcoin-only edition. It depends on Bitcoin-only firmware and offers compatibility with the BitBoxApp, Electrum, Specter, and Sparrow.
6) Best for Software Storage: Wasabi Wallet
Type of Wallet: Open-source, non-custodial, privacy-focused desktop wallet

Fees: None

Features:

Open-source, non-custodial storage

CoinJoin transactions

desktop access for Mac, Windows, and Linux
Pros: Wasabi wallet is available on Mac, Windows, and Linux desktop devices. It provides a free hot wallet that offers open-source, non-custodial storage for Bitcoin investors.
Conclusion
The most important thing to do before choosing the right Crypto Wallet for you is by spending some time doing some research. You need to feel confident about the apps you'll be using in keeping your assets safe and secured. Unless you are sure about the Crytpo Wallet that you trust your assets to, continue doing your research and be on the lookout for updates and trends in the crypto world.
Always remember that knowledge is power.
References
Who Accepts Bitcoin? 11 Major Companies, Retrieved October 19, 2021, from

https://www.buybitcoinworldwide.com/who-accepts-bitcoin/

 

Best Cryptocurrency Apps and Exchanges for October 2021, Retrieved October 19, 2021, from

https://www.fool.com/the-ascent/cryptocurrency/best-cryptocurrency-apps/

 

Evaluation Assurance Level (EAL) Retrieved October 19, 2021,

https://searchdatacenter.techtarget.com/definition/Evaluation-Assurance-Level-EAL